Bangladesh seeks 77% rise in wage for garment workers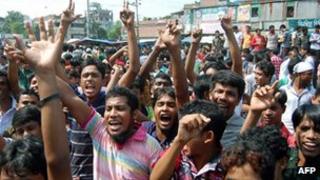 Bangladesh's wage board has proposed raising the minimum salary for garment industry workers by 77% to 5,300 takas ($68; £42) a month.
A string of fatal incidents have raised concerns over working conditions and low salaries in the sector - a key contributor to the country's economy.
Workers have held various strikes in recent weeks demanding higher wages.
However, the proposed increase is less than unions had demanded. They had sought more than 8,000 takas per month.
"The board proposed this amount considering the present reality both from the point of owners and workers," AK Roy, chairman of the wage board was quoted as saying by the Reuters news agency.
The wage increase still needs to be approved by the Ministry of Labour and Employment.
'Appeal to government'
Bangladesh is the world's second-largest exporter of ready-made garments.
According to some estimates, the sector is $22bn (£13.5bn) industry in Bangladesh, accounting for nearly 80% the country's exports.
However, safety standards in Bangladesh's garment factories are notoriously poor.
The working conditions at the country's factory came under increased scrutiny earlier this year after the collapse of a garment factory in April killed more than 1,100 people.
The incident sparked global concerns prompting calls for better conditions and higher wages.
But factory owners have argued that while they willing to hike wages, a sharp increase would damage their competitiveness.
"We will appeal to the government to consider our ability, and it should not take any decision out of emotion or political benefit," said Arshad Jamal Dipu, a representative of the Bangladesh Garment Manufacturers and Exporters Association (BGMEA).
For their part, workers have said that despite the proposed rise, the minimum wage in Bangladesh will remain among the lowest in the world.
"We will urge the owners to implement it without any opposition, otherwise there will be a deadlock in the sector," said Sirajul Islam Rony, a workers' representative on the board.