NIESR: UK interest rates could rise in 2015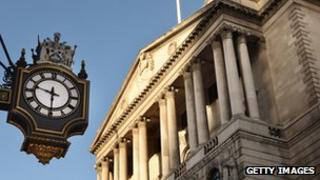 The Bank of England could raise interest rates as soon as 2015, the National Institute of Economic and Social Research (NIESR) has said.
The UK's central bank has stated it will not raise interest rates until unemployment falls to 7%, suggesting it could not be until 2016, said NIESR.
But NIESR said unemployment rates were dropping more quickly than predicted.
It said the central bank could increase interest rates in 2015 to stop the economy overheating.
Unemployment in the UK currently stands at 7.7%.
In a quarterly report, Jonathan Portes, director at NIESR, said some mortgage payers might find an earlier interest rate rise difficult.
He said: "There may be a sense that consumer spending and possibly house prices are rising in a way that makes an ultra-loose monetary policy unnecessary."
The think tank said Britain's recovery was still reliant on consumer spending, while falling incomes were causing a dent in household savings.