Insurers pay out £130m for UK storm damage, says ABI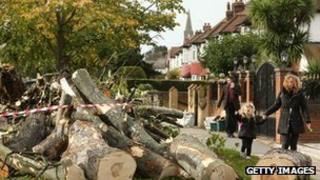 Insurers expect to pay out £130m to policyholders whose homes, businesses and vehicles were damaged in the St Jude storm.
The Association of British Insurers (ABI) said its members estimated receiving 105,000 claims following the storm on 27 and 28 October.
Four people died when the storm battered southern Britain.
The ABI said that advanced warning of the weather reduced the potential damage and cost.
"The storm was a significant event with some tragic consequences, but advance warning meant that people were well prepared and could take steps to minimise damage and disruption," said Aidan Kerr, the ABI's head of property.
"Violent weather like this is exactly what insurers expect to deal with during the year, and they will have mobilised claims teams to help customers recover as quickly as possible."
The figures represent an initial estimate of the cost of the storm.
The storm contributed to a drop in the share price of RSA Insurance on Tuesday. It was down more than 6% after earlier warnings that bad weather events across the world had led to losses this year.