British Airways owner IAG sees profits rise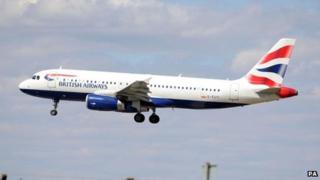 International Airways Group (IAG), owner of British Airways, has reported a jump in profits, helped by a recovery at its Spanish airline Iberia.
IAG's shares closed up 8% after it reported pre-tax profits for the July-to-September quarter of 609m euros (£507m), up from 237m euros a year ago.
Profits at Iberia were 74m euros in the quarter, compared with 1m euros in the same period in 2012.
IAG has been trying to overhaul Iberia, cutting jobs and pay at the carrier.
Last Updated at 19 Sep 2017, 15:30 GMT
*Chart shows local time
price
change
%
606.50 p

+

+15.50

+

+2.62
IAG's chief executive Willie Walsh said Iberia's performance had improved, but added: "The airline must continue to implement its restructuring plan and reach agreement on productivity changes to bring about long-term sustainable profits and growth."
Quarterly profits at British Airways rose to 477m euros, compared with 268m euros a year earlier.
IAG said BA had benefited from a strong London market and demand for transatlantic flights. BA was also helped by a 100m-euro "bounce-back" from last year's Olympics, when demand for business travel from London fell.
For the first nine months of 2013, IAG reported a pre-tax profit of 103m euros, compared with a 121m-euro loss at the same point last year.