Bank of England's Help to Buy role questioned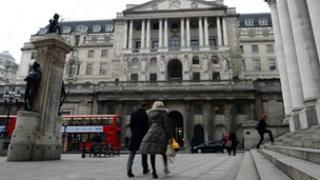 An influential committee of MPs has asked the Bank of England to clarify its role in policing the Help to Buy scheme amid fears of a property bubble.
The Treasury Select Committee said that the "scope and limits" of the Bank's role were not clear.
In September, Chancellor George Osborne asked the Bank to take a bigger role in ensuring the Help to Buy scheme did not fuel a property boom.
Help to Buy is aimed at helping first-time buyers get on the property ladder.
The government said it would assist those who could afford the regular mortgage repayments, but who were unable to raise a large deposit required by many lenders.
Powers
The first phase of the Help to Buy scheme in England started in April, when buyers of newly built homes were eligible for a 20% equity loan from the government on top of their 5% deposit.
Similar schemes are operating in Scotland and Wales.
Under the second phase, buyers across the UK only need to provide a small deposit, with the government offering a guarantee of 15% of the loan to the lender - for a fee - to encourage the bank or building society to offer the loan.
A host of big mortgage lenders have started, or promised to offer, new products under the scheme, although the UK's biggest building society - the Nationwide - has not decided on whether it will sign up.
Critics have suggested that these products would fuel an artificial housing bubble and expressed concerns about how it will be brought to an end, prompting the chancellor to ask the Bank to keep a close eye on it.
The Bank of England's Financial Policy Committee is able to modify parts of the Help to Buy scheme to keep it in check.
It can reduce the £600,000 cap on properties under the scheme, so that fewer homes are affected. It can also also make loans less attractive by recommending that the Treasury raises the fees paid by lenders for the guarantees.
The chairman of the Treasury Committee, Andrew Tyrie, has now written to the Bank's governor, Mark Carney, asking him to outline the Bank's role and how it would keep itself detached from government policy on the scheme.
"The scope and limits of the Bank's role in this scheme need a good deal of clarification, both to safeguard the Bank's authority to act in fulfilment of its statutory responsibility for financial stability and to safeguard its independence," he said.