Shire buys US drug firm ViroPharma for $4.2bn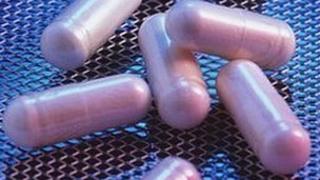 UK-listed drug company Shire has agreed to buy the US's ViroPharma - a rare disease biopharmaceutical firm - for about $4.2bn (£2.6bn).
Shire will pay $50 for each ViroPharma share - a 27% premium on Friday's closing price.
The US firm makes drug Cinryze for the treatment of Hereditary Angioedema (HAE), a genetic immune disorder.
Shire shares closed up 1% in London. Shire is registered in Jersey and its HQ is in the Irish Republic.
Last Updated at 18 Aug 2017, 15:30 GMT
*Chart shows local time
price
change
%
3764.50 p

-

-106.50

-

-2.75
"The acquisition of ViroPharma will immediately benefit Shire and is entirely consistent with our clear strategic objective of strengthening our rare disease portfolio," said Shire chief executive Flemming Ornskov.
"It brings us a new growth-driving product which augments our already strong growth prospects."
He added: "Shire is also excited by the prospect of being able to offer two complementary treatments, Firazyr for the treatment of acute HAE attacks and Cinryze for prophylactic treatment of patients suffering from HAE."
The firm envisages cost savings of $150m by 2015 from the deal, which it says will create a unit with revenues of $2bn a year.
Drugs that treat rare diseases are being increasingly targeted by firms that are losing patent protection on their more conventional drug lines.