Japan closes up 2.2% on weaker yen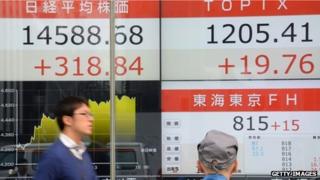 Asian shares closed higher on Tuesday led by Japan's Nikkei index, which ended up 2.23% at a three-week high.
Exporters were helped by a softer yen, as the dollar hit a seven-week high against the Japanese currency.
In Shanghai, shares rose 0.5% and South Korean shares rose 0.9%. But the MSCI index of Asia-Pacific shares outside Japan rose by just 0.1%.
Overnight, US stocks had edged up, lifting the benchmark Dow Jones to another record closing high.
The dollar moved as high as 99.59 yen, its highest since 20 September, lifting exporters like Sony and Advantest, which climbed 3.6% and 3.2%.
The Nikkei 225 index gained 318.84 points to 14,588.68, Meanwhile, Japan's broader Topix index rose by 1.67%, or 19.76 points, to 1,205.41.
The positive Asian news came after a three-day run of losses on local stock markets.
"The recent decline opened up room for bargain-hunting, but thin trading volume underscores investors' search for clues on the timeline for the Fed's stimulus cutback," said Lim Dong-rak, an analyst at Hanyang Securities in Seoul.