House prices in surprise monthly drop, says ONS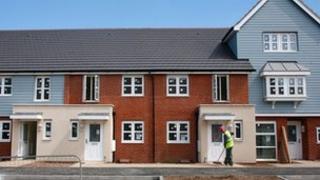 House prices across the UK have dropped back slightly, according to the Office for National Statistics (ONS).
Last month, the ONS reported that prices were at their highest since records began in 1968.
However, in a surprise development, its house price index fell from 186 in October to 184.9 in November.
Once the figures have been adjusted for seasonal fluctuations, prices showed no change between the months of August and September.
But over the year as a whole, house prices continued to increase.
Annual inflation rose from 3.7% in August to 3.8% in September.
Despite the monthly pause in prices, economists said the long-term trend was still upwards.
"Flat house prices in September reported by the Office for National Statistics will likely do little to ease concerns that we could be headed for a new housing market bubble," said Howard Archer, the chief UK economist of IHS Global Insight.
The ONS house price index, which is based on mortgage completions, gives a heavy weighting towards prices in London.
Across the UK regions, prices rose by 4.2% in England and 1.4% in Wales.
However, prices fell by 1.1% in Scotland, and 1.5% in Northern Ireland.
Imbalance
Earlier, the Royal Institution of Chartered Surveyors (Rics) called for urgent action to cope with the soaring demand for houses.
It said that demand was not being matched by supply.
And it warned that a lack of houses being put up for sale was proving problematic.
"The amount of homes currently up for sale is still nowhere near enough to keep up with demand," said Simon Rubinsohn, the chief economist of Rics.
"In order for the market to function correctly, this imbalance urgently needs to be addressed." he said.
Its regular monthly survey showed that more surveyors were reporting house price rises than at any time in the last 11 years.
By contrast, demand for rented accommodation had also fallen to its lowest for a decade.