Singapore Airlines profits jump almost 80%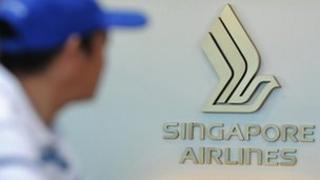 Singapore Airlines (SIA) has reported a 78% rise in net profit for its second quarter.
Asia's second biggest carrier was boosted by the sale of aircraft, spare engines as well as increased passenger traffic.
The firm posted a total net profit of $128.6m (£80.9m) for the quarter, up from $72.1m a year earlier.
But it warned it was facing tough competition and a strong Singapore dollar.
Future outlook
The carrier said its advance bookings for the coming months are projected to be higher compared to the same period last year.
But it said promotional activities required to match its competition would likely put pressure on yields.
Earlier this year SIA raised its investment in Virgin Australia, buying an additional 9.9% stake for $126m, taking its total holding to 19.9%.