Hon Hai's quarterly profit climbs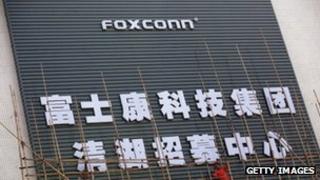 Hon Hai, owner of Foxconn, the world's biggest contract electronics maker, said its net income for the three months to September rose 1.5% from a year earlier.
Based in Taipei, the firm makes products for some the world's biggest brands, including Apple.
Hon Hai said net profit reached $1.04bn for the quarter, beating most analysts' expectations.
The manufacturing giant derives up to 50% of its revenue from Apple.
New business model
Neither Hon Hai nor Foxconn are household names for many consumers, but the firm is used by most of the big technology giants around the world.
In addition to Apple, Foxconn is a manufacturer for Sony, Microsoft, HP, and Nokia.
According to some estimates, Foxconn draws as much as half of its revenue from assembling Apple's iPhones and iPads, down from about 60% a year ago.
But Hon Hai has recently said it is shifting away from that business model.
The company now wants to become more consumer driven and has developed its own brand of accessories.
It is also building an integrated service package, ranging from electronic devices to cloud computing, and has recently bought fourth-generation (4G) mobile licenses.
Taipei-based analyst at Daiwa Securities, Kylie Huang, said the changes would help Hon Hai's margins in the firm's third and fourth quarters.
"In the very long run, working closer with the carriers will help Hon Hai to understand the needs of consumers when introducing TVs, tablets, game consoles and smartphones," Ms Huang said.