Insurers refuse quotes for new village's postcodes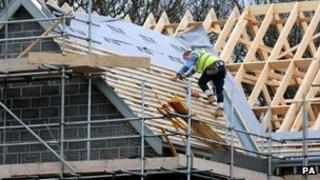 People moving into newly built homes are being refused insurance quotes because their postcodes have not been uploaded to companies' databases.
One new resident of the village of Waverley in South Yorkshire had her car insurance stopped.
The Royal Mail issues new postcodes but says it is up to individual insurers to update their records.
The village's developers say they are investigating.
Insurance cancelled
Ruth Lewis moved to her home in Waverley last week.
She had phoned her insurer, RAC Insurance, the week before to give her new address.
She thought it would be a straightforward change, but it proved to be anything but, as she told Radio 4's Money Box programme: "The young lady in the call centre said your postcode isn't on our system. They said no postcode, no address - no insurance! They said I'd have to cancel the insurance and send the certificate back."
Mrs Lewis and her brother kept contacting RAC insurance to say that she could not work as a nurse without being able to drive her car.
But RAC Insurance insisted that without a recognised postcode there was nothing it could do.
Quotes refused
Mrs Lewis went back to her previous car insurer, Aviva, but it could not offer her a quote either.
She is concerned that this issue could affect many other people: "You're going round and round in circles. Nowadays if the computer says no, you haven't got a cat in hell's chance."
Eventually, Mrs Lewis was offered two quotes, but each was for three times the £300 she had been paying with RAC.
Money Box spoke to a specialist insurance broker Adrian Flux, which has found Mrs Lewis a policy with Equity Red Star for less than £300.
Two days later and after being contacted by Money Box, RAC Insurance said it could continue to insure Mrs Lewis after all: "We have looked into the queries raised by Mrs Lewis and were able to secure her a new insurance policy using her old postcode in the interim until her new one showed up in insurers' databases.
"However, we now understand she has been able to find alternative cover."
Taylor Wimpey built the house that Mrs Lewis has bought on land developed by Harworth Estates. The builder said: "It is our understanding that Harworth Estates made an application to the Royal Mail in relation to a change in address and postcode for the homes being built.
"We were assured that the approval of this application and subsequent change in postcode would be officially relayed to our customers through the Royal Mail. We will investigate the matter further and liaise with Harworth Estates on how this information was relayed to our customers."
Harworth Estates said it had notified Royal Mail in April that it required a new postcode for the development.
It is not just getting car insurance that has been problem for people moving to the development.
Invalid postcodes
Kirsty moved in in March, but says she could not get home insurance until the very last moment because insurers would not recognise her new postcode.
She said: "We were having to ring up the Royal Mail to chase them up to put our postcode on because it wasn't a valid postcode. About three days before we were due to move in, we didn't have any house insurance and we couldn't complete our mortgage without house insurance."
Royal Mail generates postcodes after it has been notified of a new development by a local authority.
Postcodes are not active at that point so that post is not delivered to building sites or unoccupied homes.
When Ruth checked her postcode last month, she realised it had not been activated, so she had to ask Royal Mail to do this.
It says it will update its list in around 24 hours.
But Royal Mail's Address Management Centre said in an email to Ruth it can take several months to filter through to firms who use postcodes to verify customer details.
Firms can pay more to access the data every day, or they can choose to pay less and access it every week, or every month. RAC told Money Box that most insurers only update their postcode files once a month.
But with Royal Mail making between three to five thousand changes every day, that means after a month there could as many as 150,000 errors or omissions in a company's database.
Royal Mail says it is up to either the local authority, its local depot or the new resident to let it know it is safe to deliver post
"Once we receive this notification from the local authority or by our operations team in that area, we will post a letter to the property informing the resident of the new address and postcode. Alternatively, customers can call us requesting their postcode, which we will provide over the telephone.
"In either case, the postcode will become live on our postcode address file, and searchable on the postcode address finder on Royal Mail's website, in around 24 hours.
"The postcode address file is available under a licence to all businesses and companies. It is their decision how often they choose to refresh and update their copy of the file. Regular refresh ensures that the latest postcode information is available to them, and many organisations choose to do this daily, weekly and monthly."
The Association of British Insurers says it is investigating.
Graeme Trudgill, of the British Insurance Brokers' Association, says insurers need to take a common-sense approach to the issue: "I was very surprised to hear that the insurer had cancelled her policy midterm. If it was an insurance broker, I'm sure they would speak to the insurer and get a quote."
Money Box is broadcast on Saturdays at 12:00 BST on BBC Radio 4 and repeated on Sundays at 21:00 BST. You can listen again via the BBC iPlayer or by downloading Money Box podcast.