Majestic Wine makes steady progress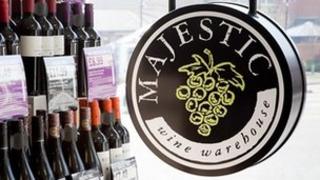 Majestic Wine reported a small drop in sales in the six months to the end of September.
Like-for-like sales - which do not include the impact of new shop openings - were down 0.4%. They were affected by the timing of Easter and the 2012 jubilee, according to Majestic.
But the group's pre-tax profits were up 4.2% to £9.5m and total sales for the same period were £130.2m, up 3.3%.
Majestic said it was "very well prepared" for Christmas.
Majestic increased its dividend 5.0% to 4.2p per share.
It also said sales of Prosecco had been very popular during the season, rising by 39%.
The company continues to expand and will open its 200th UK shop in November.
"These results show we continue to make steady progress towards our strategic growth objectives and we are very well prepared for the peak Christmas trading period," said Majestic's chief executive Steve Lewis.
Customers must buy at least six bottles of wine in one order.