Foreign investment in China up 5.8% in first 10 months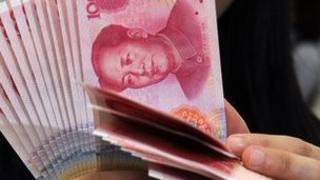 China has attracted 5.77% more foreign direct investment (FDI) in the first 10 months of the year, compared to 2012.
Government figures show FDI totalled $97bn (£60.2bn) over the period.
In October alone, the country attracted $8.4bn - an increase on a year earlier but down from September's figure.
Ministry of Commerce spokesman Shen Danyang said foreign investment policy would remain stable and transparent as China carried out its reform agenda, Reuters reports.
Last week Beijing announced the boldest changes in decades, including relaxing the one child policy and opening up the financial sector.
The vast majority of investment into China is from 10 Asian countries and regions including Hong Kong, Taiwan, Japan, Thailand and Singapore. That accounted for $83.6% of investment - a jump of 7.18% year-on-year.
Investment from the EU increased to $6.4bn during the period - an increase of 22.3% - while $3bn came from the US, a rise of 12.4%.
October's figure was up 1.24% from the previous year, the ministry said. Last month, it was slightly higher at $8.8bn.