Ex-Co-op boss David Anderson defends Britannia merger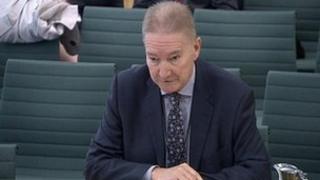 The former chief executive of the Co-operative Bank has defended its merger with rival Britannia building society as the "right decision at the time".
"We firmly believe it was in the interests of the members of the group," David Anderson, who stepped down in July 2009, told MPs.
Mr Anderson also said taking on Britannia's bad real estate loans "did not bring down the bank".
"Full due diligence" was done, he said.
Mr Anderson was giving evidence to MPs at the Treasury Select Committee regarding the troubled bank and its 2009 takeover of the Britannia Building Society.
"Clearly, it hasn't turned out as well as we would have wanted and has contributed to the situation that has arisen in the bank," he said.
Mr Anderson took full responsibility for initiating merger talks with Britannia, insisting that there was no political encouragement to pursue the deal.
Bad loans
He also pointed out that three years after the merger in October 2012, the Treasury concluded that the deal was in the interest of the members of the group.
"So for some considerable time afterwards this didn't look like a bad thing to do," he said.
The Co-op Bank's merger with Britannia and taking on its bad property loans was blamed in part for the £1.5bn capital shortfall revealed at the bank earlier this year.
The hole eventually saw the Co-op Group lose overall control of the Co-op Bank as a result of a rescue deal secured with hedge funds.
Mr Anderson was speaking just hours after the Co-op Group chairman, Len Wardle, resigned, saying "serious questions" had been raised by the scandal surrounding its former banking chairman, Paul Flowers.
Mr Flowers apologised after he was filmed allegedly buying drugs, while the Co-op has said it is investigating.
Len Wardle, who led the board that appointed Mr Flowers, was due to retire in May 2014 but said he felt it was "right" that he left his post now.