Nokia Microsoft mobile deal gets shareholder go ahead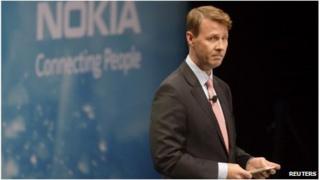 Shareholders of the phonemaker Nokia have agreed to sell their mobile phone business to technology giant Microsoft for 5.4bn euros ($7.2 bn; £4.5bn).
The deal goes ahead despite objections from some investors who opposed the sale of a Finnish asset.
Regulators must clear the sale, but is expected to close early next year.
In September, Microsoft agreed to buy the mobile phone business and licence patents from Nokia.
Nokia has seen its share of the smartphone market shrink as competitors such as Apple and Samsung have risen in popularity.
'Feels good'
Tuesday's deal was approved by 99.5% of Nokia's 3,900 investors at a meeting for shareholders in the Finnish capital of Helsinki.
At the five-hour-long shareholder meeting, Chairman Risto Siilasmaa said he believed the sale would "raise deep feelings" among Finns, who regard the phone company as a national success.
But one shareholder told the Reuters news agency he was happy with the vote.
"Now it feels good again. This is a really good result," said Hannu Ryyppo. "It's a new beginning for Nokia."
When the sale was first announced, Nokia said it would also make changes to its leadership.
Stephen Elop, the former president chief executive of Nokia Corporation, was to step down and resign from the company's board under the terms of the deal.
Nokia has faced criticism over the 18.8m euro pay-out Mr Elop is set to receive when he leaves the company. He is due to move over to Microsoft when the sale is completed.
Mr Elop left Microsoft to join Nokia in 2010, and has been cited by some as one of the frontrunners to replace Microsoft's outgoing chief executive Steve Ballmer.
Mr Ballmer is expected to leave the company in 2014.