French courier firm Mory Ducros files for bankruptcy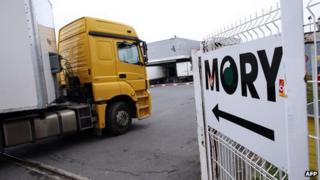 Mory Ducros, France's second-biggest courier firm, has filed for bankruptcy, putting 5,000 jobs at risk.
The loss-making company was formed a year ago, following the merger of transport companies Mory and Ducros.
The group lost 79.5m euros (£66.4m; $107m) in the 16 months to December 2012, according to court papers cited by Le Monde newspaper.
It is the largest bankruptcy case since household goods company Moulinex went bust in 2001.
The report will come as unwelcome news to French President Francois Hollande, who has been trying to revive his country's ailing economy and reduce public debt by raising taxes and implementing structural reforms.
French unemployment now stands at about 3.3 million, near record highs for the country.
Mr Hollande's plans have met with fierce opposition, particularly from farmers, who this month violently protested against an "eco-tax" on haulage companies that would have increased their delivery costs.
The president has since suspended the planned tax.
And last week, the European Commission said France's structural reform plans were making only "limited progress".
The country's budget deficit is forecast to reach 4.1% of gross domestic product this year, well above the 3% upper limit that the Commission has set for eurozone countries.
France's economy shrank in the third quarter of this year.