Portugal passes latest austerity budget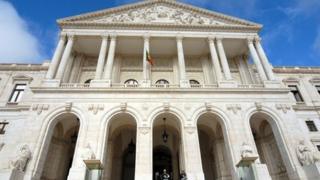 Portugal is set for another tough year after its government approved a new set of budget measures.
The country is struggling to come back to financial health and meet the terms of an international bailout.
It has now passed another set of spending cuts, which face strong opposition from workers who will be directly affected.
They also face a court challenge that, if successful, could derail Portugal's goal of exiting the bailout in 2014.
Government workers in particular will be hit by the action which will give Portugal a third year of austerity.
Cuts
Public employees earning more than 675 euros (£565, $915) a month will see their pay cut by between 2.5-12%, pensions above a certain amount will be cut by 10% and working hours raised from 35 to 40 hours a week.
They will also lose three days' holiday a year.
About 80% of the government workforce, or some 600,000 workers, will be affected.
Thousands of workers protested outside the parliamentary building during the vote.
Lisbon needs to cut the budget deficit to 4% of economic output from this year's 5.5%.
Burden
Portugal's coalition government is trying to avoid asking international lenders, including the European Central Bank, the European Commission and the International Monetary Fund for a second bailout.
Measures, including spending cuts and higher taxes, have hit living standards in the country and pushed unemployment to above 16%.
In 2011, Portugal - on the brink of going bust - received a 78bn euro (£65.3bn, $105bn) rescue.
Its finance minister, Maria Luis Albuquerque, said there was no choice but to take further steps to curb government spending: "Unfortunately we are still in a situation of crisis and emergency which demands exceptional measures."
The main Socialist Party opposition leader, Antonio Jose Seguro, said the budget went too far: "[This] overburdens the Portuguese with yet more sacrifices."