S&P upgrades Spain's economic outlook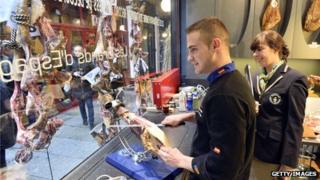 The economic outlook for Spain has improved, says ratings agency Standard and Poor's (S&P).
The debt-laden country, whose banks came under severe pressure during the financial crisis, has been struggling to improve its public finances.
S&P raised its assessment from negative to stable and re-affirmed its BBB- long-term sovereign credit rating.
However, S&P cut its credit rating for the Netherlands from the top-level AAA rating to AA+.
S&P citing the Netherland's worsening growth prospects as a reason for the cut.
This demotion leaves only Germany, Luxembourg and Finland as the remaining eurozone countries with the top rating of AAA, according to S&P.
But rival ratings agencies, Moody's and Fitch, have maintained their AAA rating for the Netherlands.
Austerity measures
Spain's economy grew 0.1% in the July-to-September period, after contracting for the previous nine quarters, officially lifting it out of recession.
Prime Minister Mariano Rajoy's government is hoping economic growth will help reduce Spain's spiralling public debt, currently 943bn euros (£792.5bn; $1.3 trillion), or more than 92% of the country's entire gross domestic product (GDP).
Austerity measures have led to riots, while unemployment has now reached 27%.
The country's banks, which received 41bn euros of EU bailout funding in 2012, have been gradually reducing their borrowings from the European Central Bank over the last year.