Funding for Lending three times higher in third quarter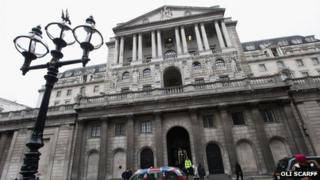 The Bank of England says lending by banks and building societies participating in its Funding for Lending (FLS) scheme was three times higher in the third quarter.
The Bank said that lending bodies had taken £5.8bn under the scheme in the three months to the end of September.
Banks have taken £23.1bn of cheap funds from the FLS.
The scheme was launched more than a year ago, in an attempt to boost lending and get the economy growing.
The biggest net lenders were Lloyds Banking Group and Nationwide, but net lending fell at Santander, Barclays and the Co-operative Bank.
'Recovery'
Under the scheme, banks and building societies are allowed to borrow money cheaply from the Bank of England, as long as they then loan that money to individuals or businesses.
Last week, that was modified to exclude individuals, as the Bank believed mortgage lending had picked up sufficiently and no longer needed special support.
Paul Fisher, the Bank's executive director for markets, hailed the figures: "An economic recovery has taken hold. These data show that a significant improvement in credit conditions, aided by the FLS, is now feeding through to lending."
The business lobby group, the CBI, said the lending figures were not as good as they looked.
Matthew Fell, the CBI's director for competitive markets, said: "Despite overall FLS lending substantially increasing, Bank of England data shows that net lending to SMEs [small and medium-sized enterprises] continues to fall, so the recent move recalibrating the scheme towards business lending is welcome."