WTO seeks last-minute global trade deal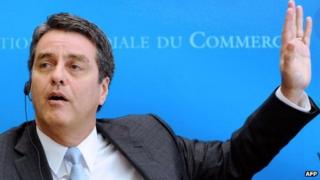 The World Trade Organization (WTO) is looking to salvage a last-minute global trade deal, as trade ministers of member states meet in Bali, Indonesia.
Last week, WTO members failed to agree on a text to be presented to ministers at the meeting to reach a deal.
A global agreement, the first since the WTO was formed, could add nearly $1tn (£617bn) to the world economy.
The head of WTO, Roberto Azevedo, has called on ministers to try to reach an agreement on key issues.
"It is there for the taking. It is a matter of political will," Mr Azevedo was quoted by the AFP news agency as saying in his opening remarks.
'Slim chances'
Diplomats from the WTO's 159 member countries have held talks in Geneva over the past few days to agree on the guidelines and rules governing a potential deal.
Among the issues discussed were new rules that would streamline customs procedures and speed up global trade.
Another key area of discussion was agriculture and the sustainability of food security programmes, such as the one being run by the Indian government.
Some reports had indicated that India had taken a hard stance on the issue in an attempt to win more concessions.
Ahead of the current meeting, Indian Trade Minister Anand Sharma was quoted by AFP as saying that the country's food programme "cannot be compromised for minor gains of the developed countries".
Analysts said that given the short time span of the meeting in Bali, the absence of an agreement text and the stance that some of the members had taken on key issues, it was unlikely that a deal would be agreed.
"Even though still possible, the chances of reaching a deal are rather slim,'' said Matthias Helble, a global trade expert at the Asian Development Bank Institute and a former WTO adviser.
'Grave consequences'
After the delegates failed to agree a text in Geneva, Mr Azevedo had warned that the deal faced collapse.
He said that: "Failure in Bali will have grave consequences for the multilateral trading system. Most of you know this.
"We will fail not only the WTO and multilateralism. We will also fail our constituencies at large, the business community and, above all, the most vulnerable among us.
"Not a single human being living in poverty anywhere in the world will be better off if we fail in Bali," he added.