China awards first 4G licences to three operators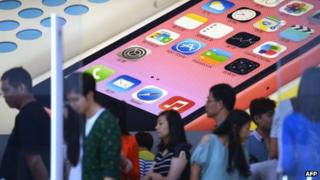 China has awarded its first licences to mobile phone companies to provide the superfast 4G network to customers.
The licences, which are designed to give mobile phone users faster access to services, were granted by the government to China Mobile, China Unicom Hong Kong and China Telecom.
The move is expected to boost business for telecom equipment makers and a range of other companies.
China Mobile is expected to offer 4G to subscribers from 18 December.
It will be followed by China Unicom and China Telecom, the country's other two major carriers.
Different standard
The new licences are for the TD-LTE (Long Term Evolution) networks. This is different to the FDD-LTE standard used to provide 4G data connections in many other parts of the world.
That means most smartphone owners will not be able to switch between 4G networks when travelling in and out of the country.
China's bestselling three smartphone makers are Samsung, Lenovo and Coolpad, according to a recent report by the consultants IDC.
Until now, China Mobile subscribers have not been able to use Apple's iPhone, because the firm's 3G technology was not compatible with the firm's handsets. However, its 4G network will work with the iPhone 5s and 5c.
The government also issued China Mobile a licence to operate fixed-line broadband services, adding the company to existing providers China Unicom and China Telecom.
China is the world's biggest smartphone-using country, with 1.2 billion mobile phone users.