Why Rio's beaches are so important to the city's food scene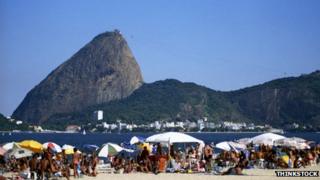 It may be midwinter in the northern hemisphere, but down here in Brazil it is the height of summer. And in Rio de Janeiro that means one thing - everyone wants to go the beach.
With thousands of people crammed on to the sands, or strutting their stuff down the promenades, armies of food and drink vendors are there to sate their hunger and quench their thirst.
At beaches such as Copacabana and Ipanema you can buy pretty much any drink or snack food you are after - from the traditional coconut water and corn on the cob, to burgers, sandwiches, hot dogs, Brazilian pasties, prawns, and ice creams. Not to forget ice cold cans of lager.
For food vendors - be they sole traders or small firms - the beaches are huge marketplaces. And competition to offer the best quality is intense.
However, what is much less well known is the fact that start-up food businesses have long used Rio's beaches as their testing grounds, a place where they first try out their products without any expensive overheads.
If successful on the sands - where to operate legally they simple need to get a free permit from Rio municipal council - the new firms can then think about moving on to opening a physical store on one of the city's streets. And from there hopefully a chain of outlets.
'Psychedelic burgers'
Raphael Kras, 27, is one such food entrepreneur who first started out at one of Rio's beaches.
A vegetarian, he realised in 2006 that you couldn't buy a meat-free burger at the beach. Despite not being an expert in the kitchen, he decided he would create a soya burger. A thermal bag and a fun marketing strategy came right after, and Hareburger was born.
Advertising his soy burgers as intergalactic and psychedelic, Mr Kras started his business with just 50 Brazilian reals ($21; £14) and eight sandwiches that he cooked and sold himself.
Hareburger quickly became a success. In 2010, Raphael opened a store at the heart of Brazil's fashionable Ipanema neighbourhood. Now he manages 14 employees and is soon opening a second restaurant and distribution centre in downtown Rio.
"I wanted to bring something new to the beach, something for veggies that anyone could enjoy," he says.
"It had to be fun and tasty, since at that time people looked weird at veggie food. And since I enjoyed spending my afternoons at the beach, there was no better place to start my business."
'Rio's main stage'
Yet for new food businesses starting out on the city's beaches, there is one great uncertainty which they have to learn to deal with - the weather.
For while Rio has a sunny reputation, it can rain even in summer, and when it rains it can pour down.
Raphael, whose business still operates at the beaches, says: "I try to start planning according to the weather forecast every Monday. That's when I start the decision process of how many products I am sending, to which areas and days."
Hotdog and pizza company Geneal is another beach vendor that says it has to keep a close eye on the skies.
"If people give up on going or staying at the beach because of a weather change, for example, we end up with leftovers that have to be tossed away or given to a poor community," says Luciana Palhares, 24, manager of Geneal.
The company first started trading at Rio's beaches 50 years ago.
Today it has outlets across the city, but Ms Palhares says it continues to operate at the beaches because it's "a matter of being loyal to where we started".
On a good sunny summer day, Geneal sells up to 1,000 hot dogs per beach. Each vendor carries up to 300 hotdogs, and earns up to 250 Brazilian reals per six-hour shift.
Seasonality is also a considerable factor for beach vendors. Despite the fact that in Rio it's possible to enjoy the sands year round. Hareburger, for example, sells up to 80 sandwiches per beach, per day, from April to November, while during summer it goes up to 300.
For Sorvete Italia, a well known ice cream brand in Rio that started selling its ice creams on the beaches in the 1970s, weather and seasons have even more impact in sales due to the nature of its product.
"Summer is responsible for 64% of the company's sales," says Sorvete Italia's expansion manager Juliana Fonseca, 38.
Yet Reginaldo Silva, 43, who is the person in charge of Geneal's beach operations, says excess competition is now the main issue, as the number of vendors has risen considerably in the past five years.
According to official figures, Rio now has 1,154 registered beach vendors, plus many unregistered ones on top.
But despite Rio's beaches being a crowded marketplace for food sellers, Ms Palhares says Geneal would never leave the sands, because the beaches will always be the city's "main stage".