Costa Coffee's rapid expansion boosts Whitbread sales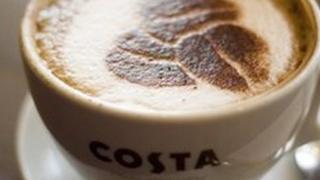 Costa Coffee saw total sales rise more than 20% in the third quarter after it opened a number of new outlets of the High Street coffee chain.
Its performance helped owner Whitbread to report a 13.8% rise in total group sales in the 13 weeks to 28 November. Same store sales at Costa rose 4.9%.
Whitbread said it had opened 246 new Costa Coffee stores worldwide so far this year, including 133 in the UK.
Whitbread was also boosted by strong sales at its Premier Inn hotel chain.
"Whitbread has delivered another strong quarter," said its chief executive Andy Harrison.
Total sales at Premier Inn rose 13.7% in the period, boosted by the opening of 22 new hotels in the year. Like-for-like sales at the hotel chain, a measure that looks at the change in activity at existing outlets, rose 5.4%.
Whitbread said Premier Inn sales were particularly strong in London.
Whitbread said the strong performance meant it was on track to meet its full year results' targets.