Ex-Detroit mayor Kwame Kilpatrick must repay $4.7m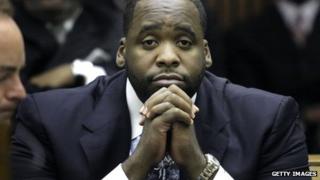 A US judge has ordered former Detroit mayor Kwame Kilpatrick to repay the city $4.5m (£2.8m) after being found guilty of corruption earlier this year.
The judge, Nancy Edmunds, also ordered Kilpatrick to pay back $195,000 to US tax authorities.
In March, he was found to have given $73m worth of preferential contracts to friends, which cost the city millions.
Kilpatrick was sentenced to 28 years in jail in October and it is unclear if he will be able to pay the fine.
He did not attend the hearing, as he is currently being held in a jail in southern Michigan.
Kilpatrick served as mayor of now-bankrupt Detroit from 2002-08, before resigning after he lied under oath in a lawsuit.
He later approved an $8.4m (£5.3m) settlement to cover it up.
As a result of those earlier corruption charges, he already owes the city $854,063.
However, he has not made a payment since February.