BT apologises for 'poor service' at sports channel launch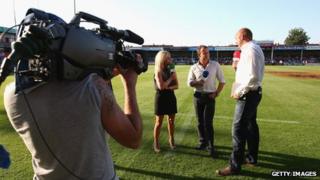 BT has apologised to its customers after what it called its "poor service" during the launch of BT Sport in August.
It followed figures that showed complaints about BT's television service more than doubled in the July-to-September period.
Telecoms regulator Ofcom said complaints peaked in August, when the new channel went on air.
As a result, BT had a far higher ratio of complaints than its rivals.
Ofcom said the biggest problems were service issues, and the way the company handled complaints.
BT said some customers were confused by the fact that BT Sport was initially free on BT TV, but was subsequently encrypted.
It said the number of complaints represented a fraction of 1% of its customers.
"We are disappointed with the result, and we accept that we failed to reach the high standards that customers expect," a BT spokesperson said.
Between July and September the number of complaints to BT rose to 0.56 for every thousand customers.
That is more than double the 0.26 per thousand recorded in the previous quarter.
In contrast, Virgin Media had just 0.05 complaints per thousand customers for its pay TV service.
Sky continued to have the lowest number of complaints, at 0.02 per thousand.