Tankan: Japanese business mood rises to six-year high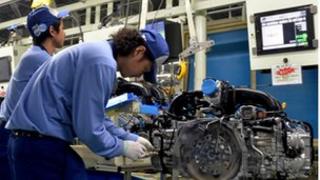 Japanese business confidence has soared to its highest level in six years, according to the Bank of Japan's latest Tankan survey.
The big manufacturers' index rose to plus-16 from plus-12 in September's survey, exceeding market forecasts.
Large companies also plan to increase their capital spending by 4.6% next year, the survey showed.
The results indicate the government's stimulus policies, aimed at spurring growth, may be starting to take effect.
Prime Minister Shinzo Abe has taken aggressive steps in recent months to end nearly two decades of deflation - or falling consumer prices - in the economy.
Analysts said the survey's results indicate his policies, also known as Abenomics, were starting to have an impact.
"The general Abenomics-related boost and the weak yen have helped, along with the monetary easing by the Bank of Japan" said Marcel Theliant, Japan economist at Capital Economics in Singapore.
"We had a lot of fiscal and monetary stimulus. These measures have certainly helped in the short term."
However, the key question was whether the measures can create a longer term improvement in the economy. "The structural reform measures have been rather disappointing so far," he said.