Lloyd's of London appoints its first female boss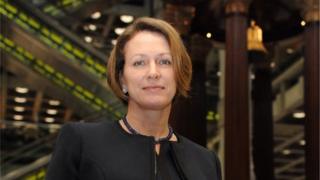 The Lloyd's of London insurance market has appointed its first female chief executive in the institution's 325 year history.
Inga Beale, who is 50 years old and has 30 years' experience in the industry, will take up the post in January.
She will take over from Richard Ward who said in July he would leave after eight years in charge.
Lloyd's chairman, John Nelson, said: "I am absolutely delighted that we have appointed Inga as chief executive."
Mr Nelson added that her "underwriting background, international experience and operational skills, together with her knowledge of the Lloyd's market, make Inga the ideal chief executive for Lloyd's".
She is currently chief executive at reinsurer Canopius. Before joining that business she spent four years with Zurich Insurance and was group chief executive of Converium, the Swiss independent reinsurance company.
Ms Beale said she saw a strong future for Lloyd's: "Lloyd's is already an international leader, but this unique market has an extraordinary opportunity to increase its footprint and to cement its position as the global hub for specialist insurance and reinsurance."
Body parts
Lloyd's, a collection of about 80 insurance syndicates, was begun by Edward Lloyd at his coffee house in London's financial district in 1688 where a group of shipping merchants would gather to pool business news.
It has a reputation for insuring anything and everything.
Policies written have included insuring various body parts.
David Beckham's legs, Keith Richards' fingers and Bob Dylan's and Bruce Springsteen's vocal cords have all been covered by members of Lloyd's syndicates.