Ford says new car launches will hit 2014 profits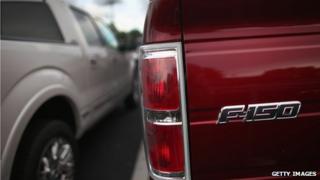 Ford shares have fallen by 7% after the company said pre-tax profits would be lower next year.
In a statement, the company said the cost of launching 16 new products next year would depress profits in 2014.
This year has been one of the most profitable in Ford's history and the company expects to make about $8.5bn.
That has helped Ford become a favourite with investors and despite Wednesday's fall shares are still up more than 20% so far this year.
Last Updated at 22 Sep 2017, 19:59 GMT
*Chart shows local time
price
change
%
11.84

+

+0.12

+

+1.02
Ford plans to triple the number of product launches in North America in 2014 compared with 2013.
But that will hit its profit margins as older models will have to be discounted and Ford will have to spend more on marketing.
Ford now expects a profit margin on operations in North America of between 8% and 9% next year, down from a previously expected 10%.
"The payoff for North America from the 2014 launches and investments we incur for future periods will be a stronger product line up and volume and revenue opportunities into 2015 and beyond," said Bob Shanks, Ford's chief financial officer.
Ford's business in North America has been helped this year by strong sales of its very profitable pick-up trucks.
It has been selling more than 60,000 of its F-series truck every month - about a 10% improvement on 2012.