US sees strong house building recovery as economy grows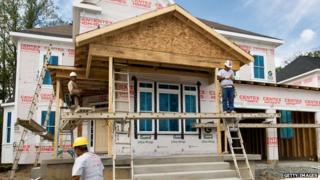 US house building activity recovered strongly in November, nearly a third higher than in the same period last year, official figures show.
New construction of homes hit 1.091 million, up 29.6% compared to November 2012, the Commerce Department reported.
This is the fastest pace for five years.
But the pace of building permits - an indicator of likely future construction levels - fell 3.1% in the month.
But this was still 7.9% higher than the same period a year ago.
The unexpected surge in activity came despite mortgage rates remaining about 1% higher than they were earlier in the year.
The average rate on a 30-year mortgage fell to 4.42% recently, down from a peak of 4.6% in August.
Rates rose after Federal Reserve chairman Ben Bernanke hinted that the US central bank might begin reducing its $85bn (£52bn) a month bond-buying program before the end of the year.
The house building figures came as US investors awaited the Fed's last policy announcement of the year, due later.
The Fed is expected to outline the future shape of its economic stimulus program.
In other economic news, Markit's preliminary composite Purchasing Managers Index (PMI) showed that manufacturing and services activity continued to grow in December.
The index was 56.2, unchanged from last month - a figure above 50 indicates growth.
Markit's employment index leapt to 55.7 in December, after hitting an eight-month low of 52.4 in November.
This is the fastest rate of growth since Markit's data collection began in late 2009.