Irish GDP growth helped by construction, figures show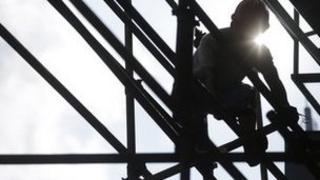 A stronger construction sector drove growth in the Republic of Ireland's economy in the July-to-September quarter, official figures show.
Gross domestic product expanded 1.5% quarter-on-quarter.
However, Ireland's trade-dependent economy continued to feel the impact of the downturn in Europe, with exports down by 0.8% quarter-on-quarter.
The bursting of Ireland's property bubble plunged the country into recession.
According to a breakdown of sectors, the data from the Central Statistics Office showed that industry - which includes building and construction - expanded by 2.2% quarter-on-quarter.
"This certainly suggests that there is a good bit of momentum in the economy and that the consumer is slowly coming back," said Conall MacCoille, chief economist at Davy Stockbrokers.
"Construction spending is up 15% on the year, which is an extraordinarily large rate of expansion."
Ireland's agriculture, forestry and fishing sector declined by 2.9%. Distribution, transport, software and communication increased by 2.1%.
The overall improvement in Ireland's economy meant that last weekend it was able to exit the 85bn-euro ($117bn; £71bn) bailout put in place three years ago by the EU, the International Monetary Fund and the European Central Bank.
The unemployment rate is down to 12.5% from last year's 15.1%, although Prime Minister Enda Kenny said the figure was still too high and pledged action to reduce it further.