China money rate spikes amid cash crunch concerns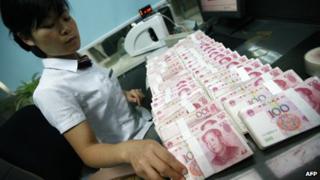 China's interbank lending rate has hit its highest level since June, despite regulators' attempts to calm concerns over a potential cash crunch.
The seven-day repurchase rate rose to as much as 9% on Friday, even though China's central bank made an emergency capital injection the day before.
The rate is a key gauge of how much is available in short-term funds for the country's banks to lend to one another.
The turmoil caused China's benchmark stock index to fall by more than 2%.
Chinese stocks have posted nine days of declines, amounting to their worst losing streak in nearly two decades.
Analysts say the rate rise also shows that China's central bank, the People's Bank of China (PBOC), is struggling to control rising negative market sentiment.
Lu Ting, an economist at Bank of America Merrill Lynch, said: "The PBOC is faced with some serious challenges, with rapid unfolding of bottom-up interest rate liberalisation.
"With its limited predictability of flows and its insensitivity to market reactions, the PBOC finds it much more likely than before to make operation mistakes."
Liquidity injection
China's central bank took the unusual step of injecting fresh funds into the markets on Thursday to help allay concerns of a cash squeeze.
The bank did not give details of how much cash it had injected, but some reports indicated it had pumped in 200bn yuan ($33bn; £20bn).
The central bank announced its move on its microblog late on Thursday.
Liu Li-Gang, a Hong Kong-based economist at ANZ bank, said the move indicated that "the PBOC intends to calm down market fears".
"The central bank appears to understand that the market might be faced with some unusual conditions. We believe the central bank's intervention is necessary and timely."
The PBOC said it had injected the funds via short-term liquidity operations. These operations are generally conducted by the central bank with individual lenders behind closed doors.
The state-owned Xinhua news agency quoted the bank as saying that it would remain flexible with its policy of conducting such operations.