Hershey to buy China sweet maker in expansion bid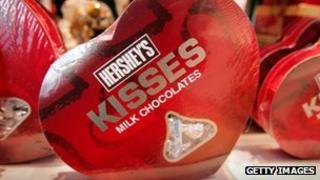 Hershey plans to buy a Chinese sweet maker for $584m (£357m) in cash and debt as it expands into the world's fastest-growing consumer market.
The firm said it would acquire Shanghai Golden Monkey (SGM), one of the world's largest confectionery and chocolate companies, in two phases.
It is the largest overseas purchase by Hershey and its first in China.
It also comes as foreign companies compete to develop new products that cater to China's different tastes.
Hershey company president and chief executive John Bilbrey called the deal "a win for both companies".
"The strength of SGM's confectionery portfolio and overall distribution capabilities, especially within the traditional trade, is an opportunity for us to leverage scale to make the iconic brands of Hershey and SGM even more powerful," he said.
Shanghai Golden Monkey founder, chairman and general manager Zhao Qisan said: "Hershey and SGM have similar cultures and strategies related to brand building and selling capabilities."
Privately-held Shanghai Golden Monkey is expected to post sales of $225m this year.
It makes items such as spicy dried tofu snacks, strawberry-flavoured cheese chews and seaweed-flavoured wafer sticks.
Sweet spot
Pennsylvania-based Hershey posted sales of $6.6bn last year and has identified China as its "primary international market".
Sales of chocolate, sweets and gum in China reached more than 79.6bn yuan ($13bn) in 2012, according to market research firm Euromonitor International.
To capitalise on this potential, the company plans to increase the number of its China stores and salespeople.
Earlier this year, Hershey also introduced a condensed-milk sweet in China called the Lancaster, its first product specifically designed for a market outside the US.
Hershey International president Humberto Alfonso said buying Shanghai Golden Monkey "fits Hershey's acquisition criteria".
"It has distribution into channels where Hershey products have yet to penetrate," he said.
"Additionally, the company has a strong history of innovation and product quality as evidenced by the outstanding reputation of its core brand, Golden Monkey, which has been nationally recognised as one of China's most iconic brands."