UK home sales up 24%, says HMRC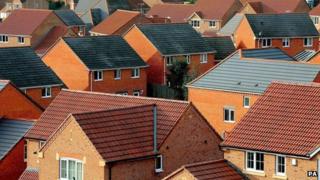 The number of homes being sold in the UK has risen by 24% over the last year, according to HM Revenue and Customs.
Seasonally-adjusted figures show that 96,979 flats or houses were sold in the month of November.
That was the highest number since December 2009.
At the same time the number of new mortgages being approved by banks rose by 39% over the year, according to the British Bankers Association (BBA).
In November there were 45,000 mortgages offered to homebuyers, the highest since September 2009.
David Dooks, the BBA's statistics director, said the trend is likely to continue into the new year.
"With approvals up a third on a year earlier, lending will continue to be strong in the months ahead," he said.
Bubble?
Although the number of transactions has risen over the last year, the figures are still well below the peak of the market.
Four years ago up to 150,000 homes were being sold every month.
The figures will therefore provide some support to those who argue that the UK is not yet in a housing bubble.
A rise in the housing market activity is generally seen as a positive sign, as long as prices do not get out of control.
However others argue that prices are already a concern, with more and more people struggling to afford a home.
This month the Halifax reported that prices have risen by 7.7% over the last year, the fastest inflation rate for six years.
Help to Buy
The transaction figures from HMRC cover the first complete month that phase two of the government's Help to Buy scheme was in operation.
Under the scheme, up to 15% of a borrower's loan is guaranteed by the government.
But the continuation of Help to Buy has been questioned by senior figures, including the Business Secretary, Vince Cable.
Over the weekend he told the BBC that "we should look again" at Help to Buy, which he said had been conceived in very different circumstances.
He also said the ratings agency Standard and Poor's had expressed concerns about the scheme.