Martha Stewart shares surge on merchandise settlement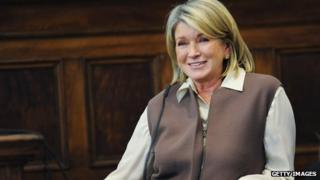 Shares in Martha Stewart Living Omnimedia jumped 10% after the company announced a settlement with retailers JC Penney and Macy's over its home goods line.
The suit stemmed from a 2011 decision by Martha Stewart to open Martha Stewart home shops in JC Penney stores.
Macy's argued this violated an earlier deal from 2006 to sell Martha Stewart home goods products in its stores.
The terms of the settlement are confidential.
"We are pleased to be able to put this matter behind us," said Macy's in a statement, while adding: "This settlement does not affect Macy's outstanding claim against JC Penney, which remains subject to the court's decision."
Before the settlement was announced, JC Penney and Martha Stewart had already announced the intention to scale back their partnership by eliminating sales of certain home, cooking and bath products.
Martha Stewart has struggled lately after revenues from broadcast and publishing slipped, and the company has sought to expand its home goods business to boost the firm's bottom line.
The company reported a loss of $4.1m (£2.5m) in the third quarter, which ended 30 September 2013.