HTC quarterly profits disappoint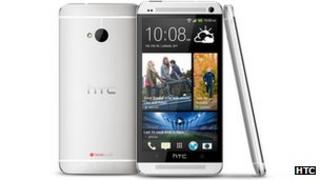 Taiwanese mobile phone maker HTC has reported worse-than-expected profits, as it continues to lose ground to its main rivals.
HTC said that its net profit in the three months to December were 300m Taiwan dollars ($10m; £6m), compared to 1bn Taiwan dollars in the same period last year.
Analysts had been expecting a much larger profit.
HTC has lost nearly three-quarters of its market value in the past two years.
The Taiwanese company reported its first-ever loss in the previous quarter.
And this fourth-quarter profit figure included a one-time gain from selling its stake in the Dr Dre-backed headphone brand Beats Electronics.
HTC was one of the early market leaders in smartphones running Google's Android software, but has lost market share to rivals such as Samsung in recent years.
It has launched new products, such as the HTC One, in an attempt to regain some of the lost ground, but they have yet to be a huge hit with consumers.
The company's global share of the smartphone market declined to 2.2% in the third quarter of 2013, from a peak of 10.3% two years earlier, according to data from research firm Gartner.