HTC shares hit by weak quarterly earnings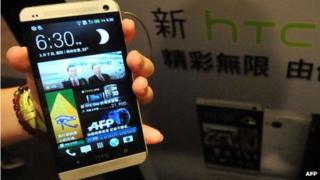 Shares of Taiwanese mobile phone maker HTC have fallen after it reported weaker-than-expected profit for the October-to-December quarter.
HTC shares fell as much as 4% to 133 Taiwan dollars on Monday as investors worried about its future prospects.
On Sunday, the firm reported a net profit of NT$300m ($10m; £6m) for the period, compared to a profit of NT$1bn during the same period last year.
HTC has lost nearly three-quarters of its market value in the past two years.
The decline in its value has been prompted by a big drop in its share of the global smartphone market.
Once a leader in Android-based smartphone sector, HTC has been hurt by growing competition from rivals such as Samsung as well as Chinese smartphone makers in recent years.
The company's global share of the smartphone market declined to 2.2% in the third quarter of 2013, from a peak of 10.3% two years earlier, according to data from research firm Gartner.
The firm has found it tough to regain its market share despite launching new products, such as the HTC One smartphone.