Service sector growth slowed in December, PMI survey says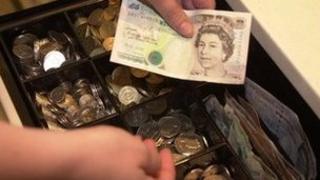 Growth in the UK services sector eased in December but business optimism remains high, according to a survey.
The purchasing managers' index compiled by Markit found that service sector activity fell to a six-month low of 58.8 points, down from 60 in November.
But that is still above the 50 mark that separates growth from contraction. Business confidence rose to 73.5, its highest since March 2010.
A survey from Lloyds said UK business confidence was at a 20-year high.
Improving picture
Markit's chief economist, Chris Williamson, said: "More strong growth looks likely as we move into 2014. It is perhaps inevitable, however, that we may see the rate of growth slow."
Markit's manufacturing and construction indexes fell slightly last week, and the firm's composite index - which includes all activity - dropped to 59.5 in December from 60.4, its lowest level since July.
The UK economy grew at an annualised rate of more than 3% in the second and third quarters of 2013, well above its long-term average of just over 2%. Mr Williamson said the PMI data suggested an even faster rate of growth for the final three months of 2013.
David Tinsley, UK economist at BNP Paribas, said that although the PMI services data showed a surprise slowdown, it was still "consistent with expansion in the sector".
He said: "To some extent, recent readings of the services PMI have looked rather frothy. And so a correction to levels in the 55-60 range over coming months would not be terribly surprising."
The improving picture of the economy was also reflected in other surveys on Monday.
UK business confidence is running at a 20-year high, according to Lloyds Banking Group. Orders, sales, and profits are all forecast to rise, the twice-yearly survey of 1,500 businesses said.
The Lloyds' survey tracks business confidence about sales, orders and profits, weighing positive and negative views to create a "balance of opinion". The latest positive balance of 45% is up from 30% last July.
The survey found that confidence had increased across all UK regions and sectors, with companies in north England and the West Midlands forecasting strong growth.
Tim Hinton, a managing director at Lloyds, said: "Businesses are exporting more, in particular to the Asia-Pacific region, but they now also feel more bullish about exporting to Europe since its exit from recession."
Confidence about the UK economy also improved, with 31% of businesses worried about domestic markets, down from 45% last July.
Confidence up
Two other surveys also highlighted the improving confidence in the economy.
The EEF reported that two-fifths of manufacturing companies planned to raise investment over the coming months. Terry Scuoler, EEF chief executive, said: "Manufacturers are telling us they expect to make a greater contribution to growth, investment and jobs this year."
However, companies reported that rising energy costs remained a worry, he said.
Meanwhile, Deloitte's survey of UK finance directors found that their appetite for risk has returned, with easier access to bank lending likely to mean their companies will expand and hire more staff in 2014.
The survey of 122 chief financial officers from business services group Deloitte found that bank borrowing was now the most attractive source of funding, the first time they have said that since the financial crisis began.
The business surveys were released on the day that Chancellor George Osborne warned that a further £25bn in spending cuts would be needed after the next election.
He suggested making welfare savings by cutting housing benefit for under-25s and restricting council housing for those earning more than £65,000 a year.
In a speech in Birmingham, he said the economy was far from fixed and spoke of a "year of hard truths" ahead.