Co-op Bank boss Flowers was right choice at time, says FCA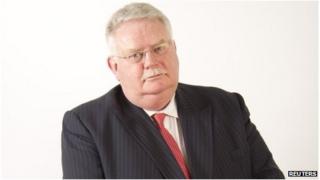 A regulator who backed the appointment of the now disgraced Co-op Bank chairman Paul Flowers, has said the right decision was made at the time.
Clive Adamson, who interviewed him in 2010 for the post of non-executive chairman, said he knew Mr Flowers did not have any experience in banking.
Mr Adamson, director of supervision at the Financial Conduct Authority (FCA), was speaking to the Treasury Committee.
Co-op Bank was rescued last year under a deal with bondholders,
The deal was required after it emerged the bank faced a £1.5bn black hole. In addition to the bank's financial problems, it was hit by scandal when Mr Flowers was arrested for alleged drugs offences.
Mr Flowers, a Methodist minister with little experience in banking, joined the Co-op board in 2009 as a non-executive director.
Mr Adamson, who was at the now-defunct watchdog the Financial Services Authority at the time, said Mr Flowers' lack of experience in banking did not matter, as his job was to control the board of the bank.
He said Mr Flowers appeared a strong choice who could control an "unruly" board, which, with 22 members, was oversized for a bank of its type.
Regret
The chairman of the Treasury Committee, Andrew Tyrie said the regulator's decision to put a "financial illiterate" in charge of its board was a "negligent decision, a very poor decision".
But Mr Adamson said he had gone further than was required by meeting Mr Flowers in 2010, and had attempted to make up for his lack of financial experience by appointing two deputies.
He said that no-one had told the regulator about the drugs allegations.
"I don't think it was a mistake in terms of the decision I made at the time," he said, but he acknowledged there were lessons to be learned from what happened, adding: "I do regret what subsequently happened.
"Today he wouldn't be approved as we would look for more experience."
Test case
Both the FCA and the Bank of England's Prudential Regulation Authority opened an enforcement investigation into Co-op on Monday.
It could lead to fines for the bank and its former directors, as well as acting as a test case for new rules that mean bankers who are reckless with bank money could face criminal charges and see pay and pensions clawed back.
Co-op Bank took over the former Britannia Building Society in 2009 and was in line to take over more than 600 Lloyds Bank branches, which Lloyds has been ordered to sell, before its frailties emerged.