Barnes & Noble appoints new boss after six months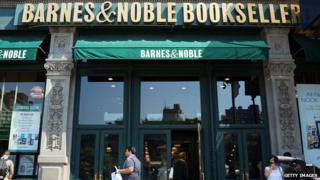 US bookseller Barnes & Noble has appointed a new chief executive after six months without anyone in the position.
Michael Huseby, previously head of its e-reader business Nook, will fill the role following William Lynch's departure in July 2013.
He will lead the company as it grapples with tough competition and consumers increasingly shop for books online.
Barnes & Noble's reports holiday sales on Thursday.
Leonard Riggio, chairman at Barnes & Noble, said Mr Huseby was an "excellent" financial and business person.
He said: "Although a relative newcomer to the retail book business, he has quickly developed a comprehensive understanding of the unique opportunities and challenges the company faces."
Mr Huseby said he was "honoured" to have been chosen.
He said: "My role, as I see it, is to enhance and unlock the value of these [Nook and retail] businesses for our shareholders."