Alcoa and joint venture partner to pay $384m in Bahrain bribery case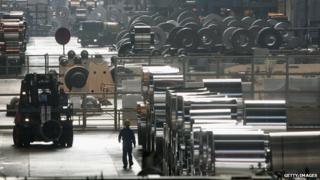 The aluminium giant Alcoa and a joint venture partner will pay $384m (£234m) to settle a bribery investigation by US authorities.
The Department of Justice (DoJ) said Alcoa World Alumina (AWA) had admitted its involvement in a "corrupt international underworld".
AWA pleaded guilty to bribing officials in Bahrain through a middleman in London.
The bribes occurred between 2004 and 2009, and amounted to $9.5m.
There were two settlements to come out of the US, a criminal case, for $223m, against AWA , and a civil case, for $161m, against Alcoa.
Acting assistant attorney general Mythili Raman said: "Alcoa World Alumina admits to its involvement in a corrupt international underworld in which a middleman, secretly held offshore bank accounts, and shell companies were used to funnel bribes to government officials in order to secure business."
The DoJ said it also paid bribes to secure business at the request of "members of Bahrain's royal family".
Case 'ongoing'
Alcoa initially said the allegations amounted to no more than a "series of guesses and overdrawn inferences", but later acknowledged the problem.
However, it pointed out that the DoJ is bringing no case against Alcoa itself.
"There is no allegation in the filings by the DOJ [against Alcoa], and there is no finding by the SEC that anyone at Alcoa knowingly engaged in the conduct at issue," the company said in a statement.
US attorney David Hickton said that although the case relating to the company's responsibility was over, the investigation would continue.
He said the London middleman involved had not been charged, despite being mentioned in prosecutors' communications, as the investigation involves thousands of documents and foreign bank accounts in Switzerland, Luxembourg, Guernsey and Australia.
"The investigation with respect to individuals and other entities is still ongoing," he said.
Mr Hickton said Alcoa had cooperated with investigators and put in place a corporate compliance program to prevent corruption in the future.