China regulator to tighten share sale supervision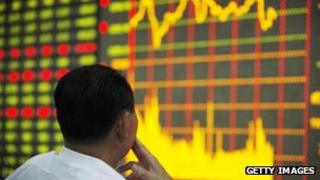 China's financial regulator said it will tighten their supervision of new share sales after lifting a more than year-long freeze earlier this month.
New rules published on Sunday will see it conduct random spot checks of investor road shows as part of an effort to counter fraud and misconduct.
There is currently a backlog of more than 750 firms looking to go public.
But the stricter requirements may have scared off some investors, with five companies now delaying their listings.
This includes China's NetPosa Technologies, Hebei Huijin Electromechanical, Nsfocus Information Technology, Beijing Forever Technology and Ciming Health Checkup Management Group.
Flexible
Consulting firm Ernst & Young had estimated these firms would raise around 200 billion yuan ($33bn; £20bn) on exchanges in Shanghai and Shenzhen this year.
The China Securities Regulatory Commission (CSRC) had said last year that it would move towards a more flexible approval process for new share listings.
Currently, state officials decide who gets to list and at what price, and the CSRC was looking to hand that power to investors.
However, regulators remain concerned about the potential for abuse, such as overpricing, and have said the reforms do not give 'unrestrained' freedom to companies looking to list.
As a result, the CSRC said companies need to meet certain financial requirements before they can open the share sale to retail investors.
The regulator will also closely monitor how deals and the pricing of share offerings are made.