German brewers fined 106.5m euros for price-fixing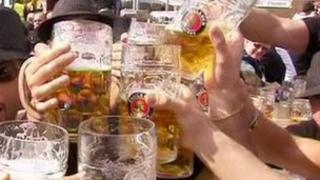 German competition authorities have fined five big breweries a total of 106.5m euros (£88.8m; $145m) for illegal price-fixing.
Bitburger, Krombacher, Veltins, Warsteiner and Barre were all penalised, as well as seven people who were found personally responsible.
The Federal Cartel Office said they had colluded on price rises for draught and bottled beers between 2006 and 2008.
The office says six other brewers are still under investigation.
It added that the investigation was prompted by information from the German unit of global beer giant Anheuser-Busch Inbev, which brews Becks beer.
The company escaped a fine because of its co-operation with the inquiry.
Germany is the biggest producer of beer in Europe.