Time Warner Cable rejects Charter's $60bn bid as 'grossly inadequate'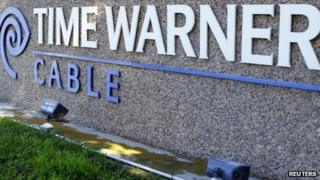 Time Warner Cable has rejected a $60bn (£37bn) bid from rival, Charter Communications, saying the offer price was "grossly inadequate".
Charter had offered $132.50 a share, with $83 of that in cash and the rest in its own stock, to buy the firm.
It said it was going public with its offer because of a lack of interest from Time Warner's management in its efforts to purchase the firm.
But Time Warner said Charter was trying to buy it for a "bargain" price.
"In essence, these guys are just trying to get a premium asset at a bargain basement price," Rob Marcus, chief executive of Time Warner was quoted as saying by the Reuters news agency.
"This makes the job of fending it off rather straightforward. Our shareholders will see it as what it is, an attempt to steal the company."
'Unrealistic price expectations'
Charter said it had made previous offers to buy Time Warner over the past six months, but had been rebuffed.
"They came back to us with a design to be dismissive," Tom Rutledge, chief executive of Charter, was quoted as saying by Reuters.
"They have not engaged with us. All of the conversations have been one-way," he added.
On Monday, Mr Rutledge released a letter he had sent to Mr Marcus, in which he accused Time Warner of having "an unrealistic price expectation".
If the deal were to go ahead, the combined firm would have more than 15 million customers in the US.
The takeover would be the biggest in the sector since 2002, when Comcast acquired AT&T's cable-internet division in a $30bn deal.