Tencent shares rise to record on China South City deal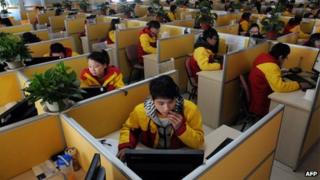 Shares in China's biggest online firm, Tencent Holdings, rose to a record high after it announced an investment in a logistics and warehouse company.
Tencent bought a 9.9% stake in China South City for $1.5bn Hong Kong dollars ($193m; £117m) in a bid to further beef up its e-commerce business.
It will have the option to increase its stake to 13% over the next two years.
Tencent shares rose more than 5% in Hong Kong on Thursday on the news.
China South City stock also rose to a record, surging 83% in Hong Kong.
"Chinese small-to-medium-sized enterprises have huge demand to expand their businesses online," Tencent President Martin Lau Chi Ping said in a statement.
"Cooperation with China South City enables us to jointly facilitate such enterprises migrating online, utilising China South City's physical locations and logistics capabilities."
Both companies are headquartered in the southern Chinese business hub of Shenzhen.
They will collaborate on online payment services, and warehousing and delivery services.
China South City said in a statement the deal will also allow both firms to "benefit from the economies of scale."
Online competition
The purchase will also up Tencent's rivalry with e-commerce giant Alibaba over control of China's lucrative internet commerce sector.
China is the world's biggest internet market, with an estimated 608 million users.
Online retail in China is forecast to more than triple to $395 billion by 2015, according to a report by McKinsey & Co.
Both companies have been looking to expand their offerings as more internet and smartphone users spend money online.
As a result, Tencent and Alibaba have increasingly moved into each others traditional territories.
Acquisition spree
Tencent dominates the online gaming and social networks arena in China through popular services such as the QQ and WeChat messaging applications.
The WeChat smartphone application has nearly 300 million monthly active users, most of them from China.
Last year, it added an electronic payments feature to WeChat, laying the groundwork for the messaging service to become a new e-commerce platform.
Hangzhou-based Alibaba, meanwhile, controls China's fast-growing market for online shopping.
The company, which is led by billionaire Jack Ma and part-owned by Yahoo, has also been expanding its offerings.
Alibaba invested in Sina's Twitter-like Weibo service last year and plans to launch a mobile gaming service.
It also recently launched a joint venture with household-goods maker Haier and became the biggest investor in Chinese logistics firm Cainiao.