Kinky Knickers firm goes into administration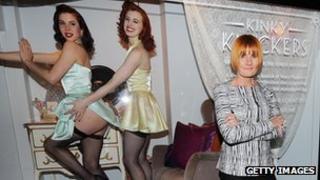 Headen and Quarmby, a British underwear maker championed by retail expert Mary Portas, has gone into administration with the loss of 33 jobs.
The 79-year-old factory, in Middleton, Greater Manchester, was championed by Ms Portas in the 2012 television programme, Mary's Bottom Line.
In it, she reopened the sewing room and launched her Kinky Knickers range.
The administrators said orders had fallen sharply and they were hoping to sell it as a going concern.
The company produces a variety of clothing for a number of High Street and online retailers, including House of Fraser and Asos.
The television show was an experiment to help revive the UK's textile industry and saw eight unemployed local people hired to set up a new production line in the former industrial town.
Viable
Mary Portas told the BBC she was "heartbroken" and "completely blown away" by the news.
Only recently, she said she had given the factory colour designs for her new collection.
Ms Portas believed the factory had suffered from a cash flow problem but that it remained a viable business.
She said in a statement: "I'm really surprised to hear that Headen and Quarmby, the business that we licensed to manufacture the brand Kinky Knickers, has gone into administration."
She said the business had been in confident form: "Right up until this announcement, H&Q were telling me of their ambitious plans for our brand and the others they manufacture under licence as well as plans they had for their own ranges. It's especially sad as they were even opening an Academy later this month to help share the skills and learning."
'Sale'
Kerry Bailey, from administrators BDO, said: "A drop in post-Christmas orders from key customers and a decline in sales volumes has significantly affected the business and resulted in a deterioration of its working capital position.
"However, we are doing everything we can to try to secure a future for the business, and we are hopeful of securing a sale. To that end, the administration team would welcome approaches from commercial parties interested in acquiring the business or assets."
BDO said the company had been affected by "a small number of bad debts" over the Christmas period, but these were low-value and that ultimately, the lack of future orders was the main reason for the administration.