Electricity supplier switching 'at record' in November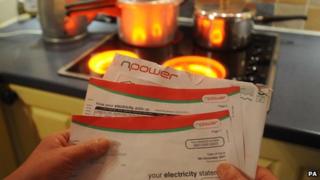 A record number of electricity customers changed their supplier in November last year, according to new figures.
ElectraLink, which measures data for the industry, said more than 615,000 people switched during the month, the highest number yet recorded.
At the time energy suppliers had announced a series of price rises.
However, by December 2013 the number of people moving supplier fell back to 391,000.
In the same month the government acted to reduce the rise in bills.
The chancellor, George Osborne, announced a change in environmental levies, which will mean smaller effective price rises.
The previous record was in August 2008, when 553,000 customers switched their electricity supplier, according to figures from the Department for Energy and Climate Change (DECC).
As yet there are no figures available for the numbers switching their gas supplier.
24 hour switching?
The record figure for November is out-of-step with the long-term trend, which has seen fewer people switching.
Between Autumn 2012 and Autumn 2013, the numbers switching dual fuel suppliers in any one quarter fell from 3% to 2%, according to DECC.
As a result, it remains to be seen whether customers will continue moving energy provider in such large numbers.
The figures from ElectraLink also suggest that the smaller energy companies have benefitted at the expense of the larger ones.
By the end of 2013, 26% of those switching supplier were moving to smaller companies, rather than the big six.
However there was no change in the time it took for the switching process to happen.
The figures show that it still takes around three weeks to change supplier.
That is despite the fact that the energy secretary, Ed Davey, announced a plan to make switching happen in just 24 hours.