Unilever profits boosted by pick-up in emerging markets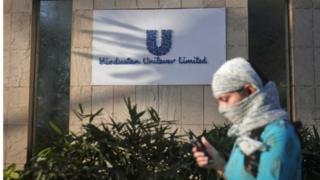 Consumer goods giant Unilever has seen full-year profits rise helped by an improvement in emerging market sales.
The firm, which makes a vast array of consumer products including Ben & Jerry's ice-cream, Lipton tea and Dove soap, said pre-tax profit rose 9% to 7.1bn euros ($9.6bn; £5.9bn).
"This has been achieved despite significant economic headwinds," said chief executive Paul Polman.
But sales fell 3% to 49.8bn euros, hit by unfavourable foreign exchange rates.
Last Updated at 22 Sep 2017, 15:30 GMT
*Chart shows local time
price
change
%
4264.00 p

+

+2.50

+

+0.06
The firm said, excluding the effect of foreign exchange and the impact of acquisitions, underlying sales rose 4.3%.
Unilever said its emerging markets business, which accounts for 57% of the group's sales, grew 8.4%, better than the third-quarter's 5.9% gain.
In Europe, Unilever's sales overall were flat, but in the UK they grew for the 25th successive quarter.
Mr Polman said he expected "ongoing volatility" in its markets, and planned to focus on cutting costs to fund further growth.
London-listed Unilever's shares rose over 4% in early trading.
Keith Bowman, analyst at Hargreaves Lansdown Stockbrokers, said investors were "breathing a sigh of relief".
"Fourth quarter sales have exceeded forecasts. In all, despite an increase in near term nerves, faith in the group's long term ability to seize expected growth in the emerging markets remains," he added.