Alstom's profit hit by drop in demand for power plants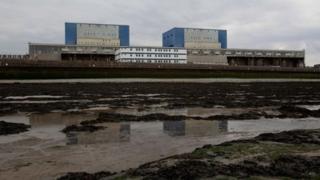 French engineering firm Alstom has warned it will miss its full-year profit target, sending the company's shares plunging 14%.
The firm, behind some of the technology for several UK power stations including Somerset's Hinkley Point, said orders fell 12% in the first nine months of its financial year.
It blamed the drop on low orders for its new thermal power plants.
As a result, it said it would spend more cash than initially forecast.
Last Updated at 18 Oct 2017, 11:45 GMT
*Chart shows local time
price
change
%
35.47

+

+0.18

+

+0.50
The company said its operating margin - a measure of profitability - would be about 7% for the year to the end of March, and would then "slightly decline" for the 2014 financial year.
As a result, it expects to use more cash than previously forecast, predicting a "moderately negative free cash flow in the second half of this year".
'Subdued' demand
Alstom, which also maintains some of the trains for the London Underground, previously forecast an operating margin near the 7.2% it reported last year, and had predicted the margin would rise to 8% over the next three years.
Orders for Alstom's thermal power turbines fell 4% to 1.56bn euros ($2.1bn; £1.3bn) in the three months to the end of December. It said demand for new plants had slowed in emerging markets, and remained "subdued" in mature markets.
"In this difficult environment, our focus remains on the implementation and acceleration of the ambitious cost savings initiatives which have been launched," said chairman and chief executive Patrick Kron.
Late last year, Mr Kron announced a plan to raise 3bn euros in cash through the sale of assets, including a minority stake in its transport unit, which makes France's high-speed TGV train.
The company is also cutting 1,300 jobs as part of a vast cost-cutting plan.
Nomura analyst Daniel Cunliffe said Alstom may have to launch a rights issue or sell a bigger stake than planned in its transport unit to fill the cash hole.
"The bigger the miss in their cash flow, the bigger the stake they need to sell," he said.