Eurotunnel turnover hits 1bn euros for first time ever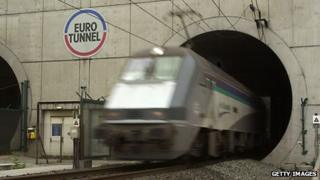 Groupe Eurotunnel, the cross-Channel train and ferry operator, has reported "record" revenues of more than one billion euros (£819m) for 2013.
Total revenues rose 12% to 1.092bn euros for the first time in its history, it said in a trading update.
Its Europorte rail freight business, founded in 2009, contributed 238.5m euros to the total, up 16% on 2012.
More than 10 million passengers travelled on its high-speed trains during the year.
While the numbers of cars and coaches using the Shuttle cross-Channel train to travel between the UK and France rose 2% and 9% respectively, the number of lorries using the service fell 7% over the year.
Jacques Gounon, chairman and chief executive, said: "Eurotunnel has had a record year and, in spite of the highly competitive market situation, has delivered revenues significantly above one billion euros.
"The Group has confirmed its capacity to make the most of the recent economic growth in Europe and particularly in the United Kingdom."
Ferry trouble
Eurotunnel's new ferry business, MyFerryLink, has seen revenues grow from 7m euros to 74m euros over the year.
The business came about after SeaFrance went into administration at the start of 2012. Eurotunnel bought three of its ferries and leased them to an independent company, SCOP SeaFrance.
This month the Competition Commission said it would reconsider whether Eurotunnel should be banned from running cross-Channel ferries following a legal challenge.
In June 2013, the Commission said the group could no longer run ferries from Dover, as its large market share would lead to price rises.
But Eurotunnel challenged the ruling and the Competition Appeal Tribunal (CAT) said the Commission should reconsider.
The Commission said it now aimed to make a decision by the end of April.
Eurotunnel has a concession to operate the cross-Channel fixed-link rail service until 2086.
Since it opened in 1994, more than 325 million passengers have used the Channel Tunnel, the company said.
Groupe Eurotunnel's shares have risen 31% over the last 52-week period.