Rate rise some way off, says Bank of England director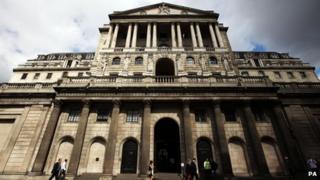 A rise in UK interest rates is "still some way off", a senior Bank of England director has said, despite the fall in the unemployment rate to 7.1%.
Last year, the Bank said it would not consider raising the base rate from its historic 0.5% low until unemployment fell to 7% or below.
But Paul Fisher, a member of the Bank's Monetary Policy Committee (MPC), said a rate rise was unlikely even then.
Low inflation was easing pressure on the Bank to act, he argued.
"Even if the 7% unemployment rate threshold were to be reached in the near future, I see no immediate need for a tightening of policy," he said, giving a speech at State Street Global Advisors in the City of London.
With inflation back at the Bank of England's target rate of 2%, and UK economic output still below its pre-2008 peak, Mr Fisher said that "we are still some way off the point where it is appropriate to start raising bank rate and that when it is time, it would be appropriate to do so only gradually."
Despite the recent strengthening of the UK economy, it is still 2% below its 2008 output level, he said.
Amid "diminishing signs of inflationary pressure", there was plenty of room for the economy to grow further before an interest rate rise became necessary, he believed.
However, there is rising speculation that interest rates will increase later this year, despite Wednesday's MPC minutes making it clear the central bank is in no hurry to raise rates.
Sir John Gieve, former deputy governor of the Bank of England, told the BBC he thought there was a "reasonable chance" interest rates would rise by the end of the year if the economy continued to strengthen.
And on Wednesday, US bank Citigroup said it expected the Bank of England to raise interest rates in the final quarter of this year, not the beginning of 2015 as previously projected.
Speculation of an early rate rise boosted the value of the pound, which climbed to $1.6615 against the US dollar - a two-and-a-half year high - in morning trading.